When visiting Hawaii many head straight to the shores of Waikiki, and that is exactly what I did. You can't go all the way to Oahu and not see its main tourist spot.
However with close to 300 accommodation options available in Oahu (majority located in Waikiki) where do you start?
As I was staying nine nights it was important that I selected a hotel that would be affordable, had good service and facilities and was well positioned.
After much research I found one property that ticked the boxes being the Coconut Waikiki Hotel (a Joie de Vivre hotel).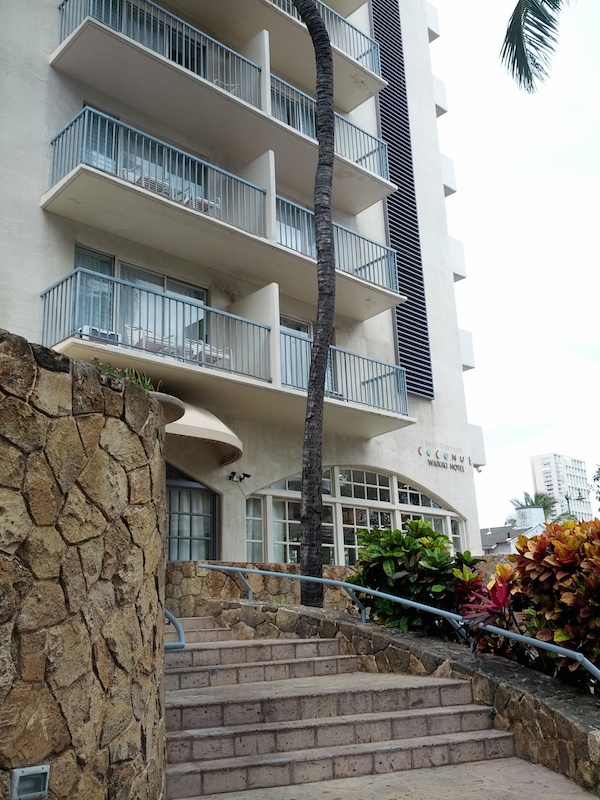 Take a look at my experience and Coconut Waikiki Hotel review:
Bedroom
Staying over a week I wanted something that would be comfortable, clean, modern, secure and affordable so I chose the 'city view queen bedroom'. Upon entering the room it was very clean, neat and pretty 'cosy' – not a lot of room to move about so would only recommend for couples.
What do I get?
It features a comfy queen size bed with good quality linen, a LCD HDTV mounted into the wall with free cable, a coffeemaker, air-conditioning, balcony, hair dryer, iron/ironing board, in-room safe and free bottles of water upon arrival.
Best feature however is the free Wi-Fi internet access in your room. I had three different devices connected and it was hassle-free, fast and no issues with data. As most properties charge for daily use it was so handy and a nice touch to my stay.
As with the overall property design, my room had a contemporary art deco feel. It embraced soft greens (walls, curtains and bedding), large mirrors, funky lamps and wall portraits.
The bathroom was a little small but its design worked in its favour. The shower was large, had in-wall shelving and offered good water pressure and temperature.
What are the downsides?
Only downsides were no kettle in the room, however there is a coffee machine. Also no mini-fridge in my room but believe others do have – best to check with reception. Finally, the balcony door was a little tricky to open due to exterior wear and tear – just needed some elbow grease.
Facilities/amenities
There are a range of facilities and amenities on offer to guests including 24-hour front desk services, travel desk to book activities/tours, gym, valet parking, housekeeping, coin operated laundry and a business centre.
On ground level is a large area with BBQ grill and a heated pool. The pool itself is a little small but suitable for its location and type of property (hotel not resort). However, the BBQ area is roomy with various tables and chairs to relax.
Top offering by Coconut Hotel is their free daily breakfast served from 6.30am to 9.30am. It features tasty waffles, muffins and pastries, boiled eggs, toast, cereal, yogurt and tea and coffee. I found this very handy and a good alternative if you don't feel like spending money on breakfast everyday.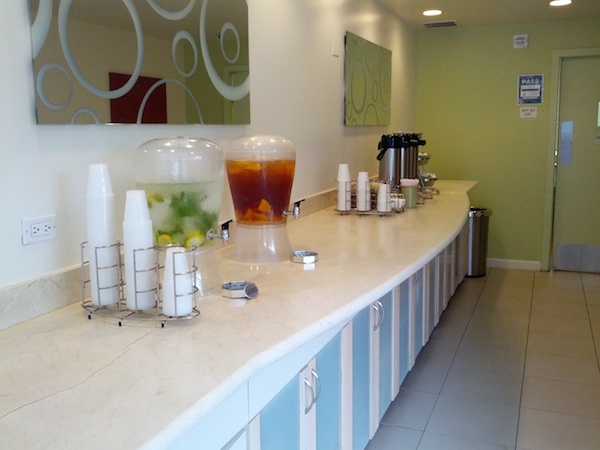 Also what I liked about Coconut Hotel is it has personality. For instance they have a resident gorilla (named Bosley) and his monkey-friend who sit around the lobby for guests to enjoy and take photos with. I couldn't resist of course! Plus I love the artistic chalkboard daily weather updates for Waikiki.
Location
Situated in the heart of Waikiki at 450 Lewers Street, Coconut Hotel has a number of restaurants, shops and bars within close proximity. For instance the shops are only a block away (2-3min walk) and Waikiki Beach is three blocks away (10min walk).
I enjoyed its location as it was away from the hustle and bustle of the main strip, Kalakaua Ave, but still very close to everything eg. shops, beach, trolley stops, pick-up locations for tours and restaurants/cafes.
Service
They offer 24-hour front desk, concierge and bell services and the staff made me feel at home here. They would always greet every guest with a smile and were genuine, friendly and polite with their conversations. Nothing seemed too difficult and they would proactively offer/help with restaurant and attraction/activity recommendations.
Also daily housekeeping is provided.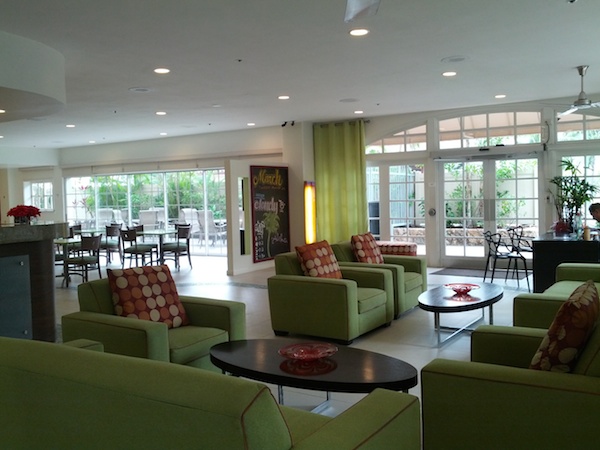 Discounts and specials
Their room rates start from $169 per night (USD) and they frequently offer specials directly via their website here.
Overall verdict
Standout features:
Free in room Wi-Fi
Free daily continental breakfast
Warm-friendly 24hr front desk service. Felt at home
Rating: 4.2 out of 5
If you're looking for ocean front views and poolside cocktail service then Coconut Hotel won't be for you – but if you're after an affordable, family-friendly, long-stay and well-positioned hotel then it's a good option to consider.
For more information or to book your stay at Coconut Waikiki Hotel click here.
*My stay at Coconut Waikiki Hotel was self-funded and all opinions are my own.
Very Good
Affordable, family-friendly, long-stay and well-positioned hotel located in Waikiki, Honolulu.