I've stayed in all sorts of accommodation from boutique hotels, modern apartments, seedy motels, beach campsites, rural farm-stays, sailing boats and even a French chateau but up until recently I hadn't stayed at a bed and breakfast (B&B). I have to admit I've never been a fan for B&Bs – the thought of staying in a stranger's home makes me feel a little uneasy. However, when a trip to the Blue Mountains in Australia presented itself there was no way of getting around it.
So after doing some research on where to stay in Katoomba – one of the main towns in the Blue Mountains – Katoomba Manor was selected due to its proximity, availability and price.
Upon arrival I couldn't help but get nervous as the manor encompassed all things stereotypical of a guesthouse – located in a leafy suburban street, small/intimate, homely and with couple owners. Once checked-in I'm shown to my room and around the premises by John, one of the owners who was very welcoming and professional.
It only took a few minutes of staying at Katoomba Manor for all those silly nerves and worries to disappear. Looking back now it's one of the best accommodation stays I've experienced (yes that's a big statement but it's the truth) and is a highly recommended place to check-into for a couples retreat while at the Blue Mountains.
Let me show you why it's turned me from a B&B avoider to a B&B fan:
Bedroom
Okay the bedroom is always going to be the main sell-point for any accommodation provider. This is where you retreat, relax and want to feel secure, and it needs to be clean, spacious and pleasantly decorated with all the required amenities. At Katoomba Manor my room was all this and more. It featured a large king size comfy bed, with bedding that made you feel like you were staying at a luxury five-star hotel not a guesthouse. There are four rooms at the manor all elegantly decorated from modern-Parisian to bohemian-chic. I stayed in the bourgeois-bohemian suite which had a bathroom that beats most hotels – modern, marble throughout, extremely clean, spacious, super large showerhead (one of my favourite things), luxury towel sets and showering products and best of all, especially during winter, heated floors. An additional highlight was the film library offered in your room – the manor offers a great selection of movie titles to watch on a modern plasma television. I also love the fact that you receive free welcome chocolate truffles and magazines in your room.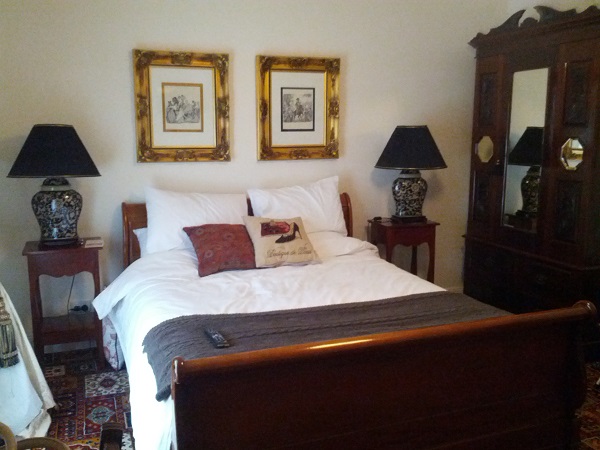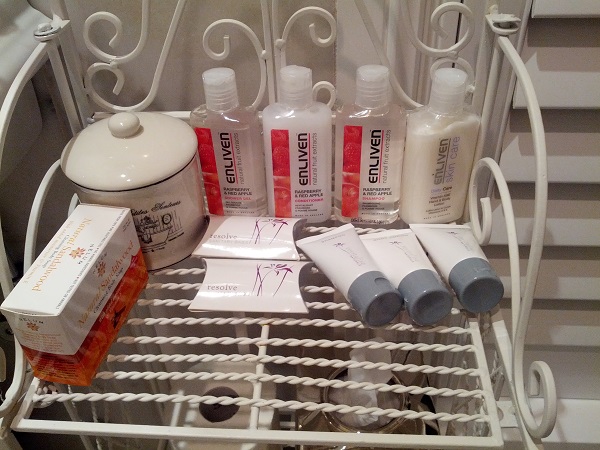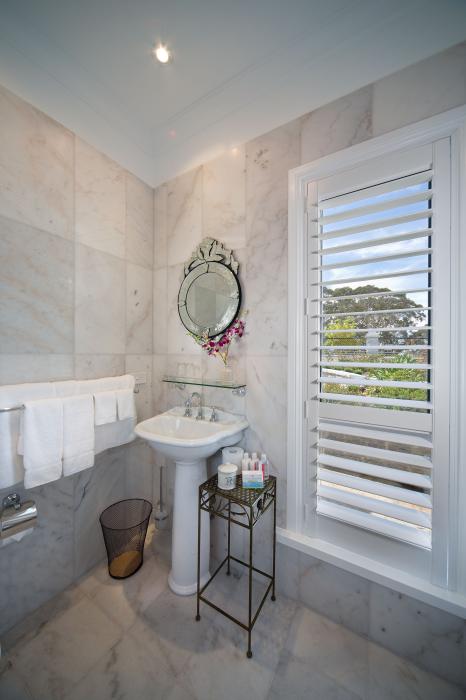 Only downside is there's no kettle and bar fridge but you're more than welcome to place your items in the manor's kitchen or lobby fridge, and the owners always offer to make you coffee and tea. It's also a good opportunity to relax in the lounge area and strike up a conversation with the other guests and owners.
Facilities
Throughout the manor it's perfectly decorated with a sophisticated French feel. It's cosy, warm and spacious. The lounge area features comfortable sofas and arm chairs, a fireplace and everyday there are baked cookies, muffins and slices to snack on. The little things are what make the manor a magnificent stay with free Wi-Fi, baked goods, fresh fruit, tea and coffee and bottled water available – it really makes you feel at home. What takes the manor to another level are two things. First of all it features a home theatre, yes I said it home theatre! Seating eight people the theatre has Gold-Class style seating (those comfy reclinable sofas) and a range of classic and recent movie titles to enjoy. Second is the standard of service – it's a true highlight and you can tell the owners (John and Sipha) have an experienced background in the hotel industry. From attraction recommendations, Blue Mountain knowledge, manor upkeep/presentation, operation, and breakfast (I'll get to that) are just some things they do very well. In addition, on-site parking and self-service laundry facilities are available. Also the guesthouse is walking distance to Katoomba Town Centre, roughly 500 metres away.
Breakfast
Each morning breakfast is served from 7.30am-9.30am and the dining room is so elegant. Overhead hangs a crystal chandelier and the large table features white linen and napkins, fresh flowers, baked bread and stylish tableware. To begin fruit, yogurt, muesli and cereal are on offer to sample before John takes your hot breakfast order – from simple eggs (any way) and toast to a full brekkie consisting of eggs, bacon, sausages, mushrooms and tomato are provided. Sipha whips up a delicious breakfast and offers great conversation, as does her partner John. At no point do you feel uncomfortable at the manor – the owners will leave you alone if you feel like some quiet time or if you wish to have a yarn they'll be in tune with that also.
Overall, Katoomba Manor is a great luxury guesthouse in the Blue Mountains. It's well priced from $195 (AUD) and offers a positive experience through its exceptional service, modern amenities and little extras.
Katoomba Manor (rating: 4.8 out of 5)
www.katoombamanor.com
Cost: From $195 (AUD)
Located: 219–223 Great Western Highway, Katoomba, NSW
Visit here for more information or to book your stay at Katoomba Manor.
Do you enjoy staying at B&Bs and guesthouses? If so, what do you most like about them?
*This was a self-funded stay and all opinions are my own.

Excellent
Luxury guesthouse in the Blue Mountains. It's well priced at $195 (AUD) and offers exceptional service, modern amenities and little extras.