Snorkelling with manta rays in Kona has been voted one of the top things to do in Hawaii, and it's easy to see why!
Getting up and close to these majestic and curious creatures is one experience you won't forget.
Recently, I embarked on a snorkel trip off the Kona Coast on the Big Island with Hang Loose Boat Tours.
Booked originally with Fair Wind Cruises (who I tried to see the manta rays with a year earlier but didn't appear), they cancelled last minute due to windy conditions. Frustrated by the idea that I might not see the manta rays again, I hit up Hang Loose Boat Tours who were still going out, and I'm very glad I went with them.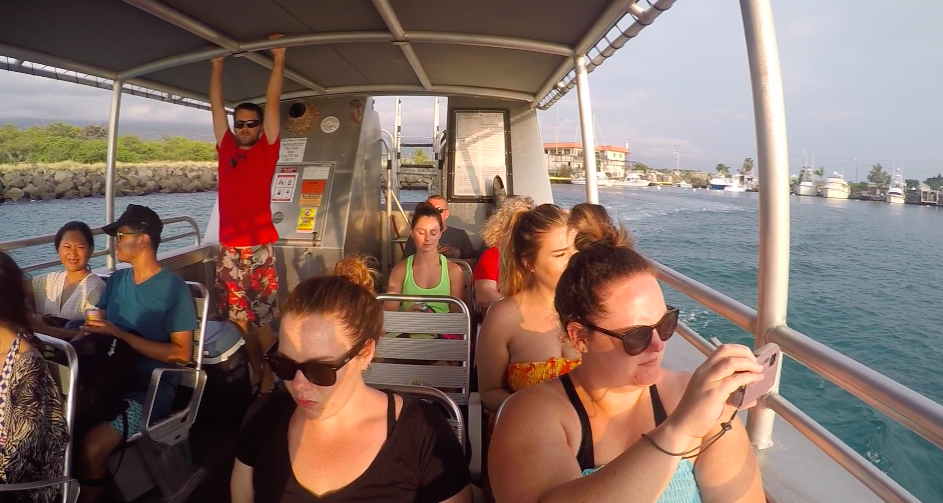 Unlike Fair Wind Cruises, these guys had a cool local and young vibe, and offered a sunset cruise as part of their trip out to the snorkel spot, which is located in Keauhou Bay. Hey, if it's good enough for Justin Bieber, then it's good enough for me (he did the same trip a few weeks before).
With island vibe music playing in the background and refreshments and snacks served – we zipped along Kona's waters taking around 20 minutes to get to our spot. During the cruise it gave us picture perfect sunset views of the horizon and coastline.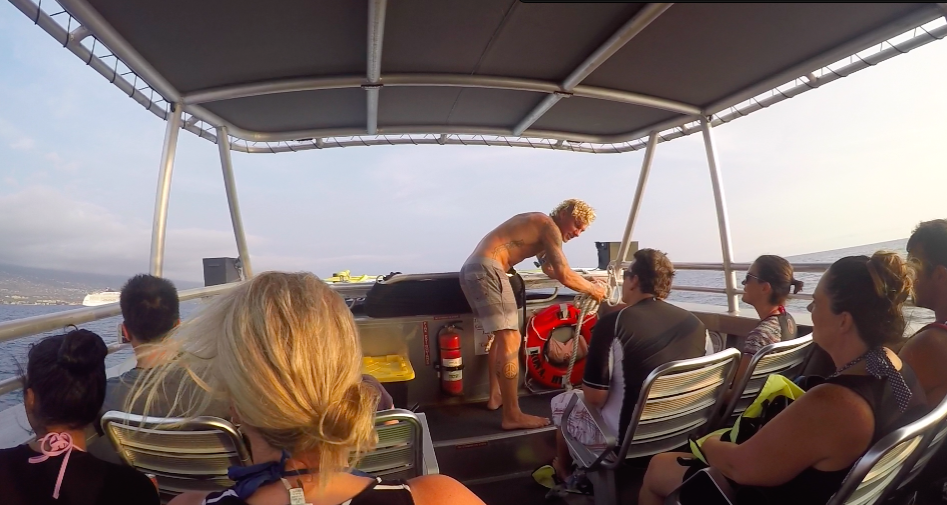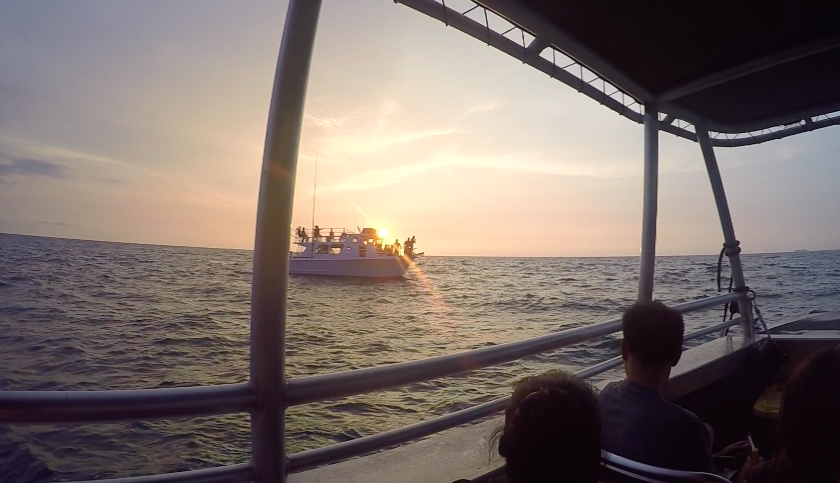 As I said, it was a windy afternoon and as a result the conditions were choppy. However, the boat we jumped on was ideal for taking on those bumpy waves and jetting us through the water quickly.
As the sun started to meet the horizon, we anchored. It was at this point when I started to feel the choppy conditions. So, the crew got us all briefed, suited-up and in the water fairly quickly.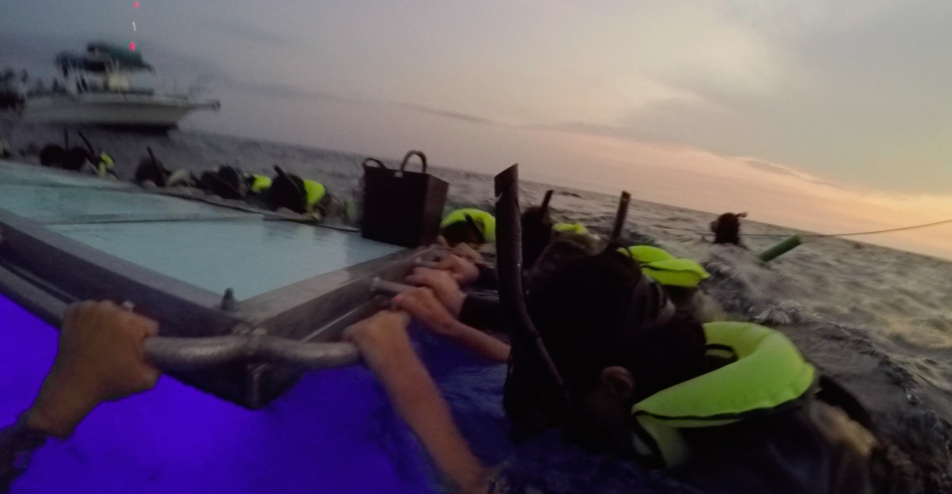 Once in the water, any seasickness motion started to subside and it was only a matter of minutes before the gentle manta rays came out to play, attracted by the blue lights beaming from the platoon we were holding onto. The next half hour we were mesmerized by these animals, which got inches from us, dancing through the water so gracefully as they fed on the plankton.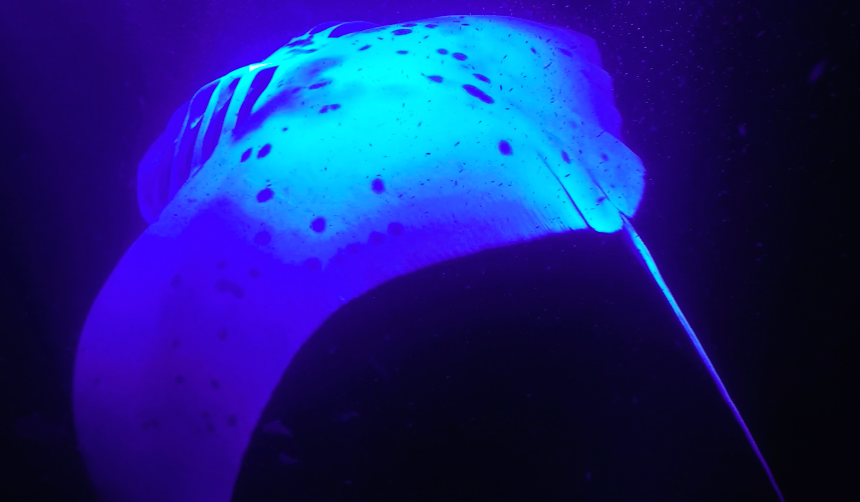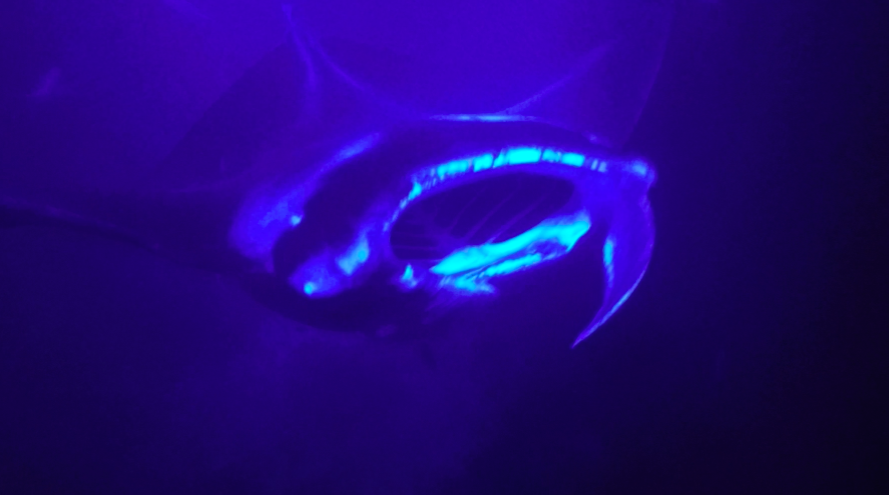 It was a peaceful experience as the creatures glided up, down, round and round. Also as darkness descended, the boat's captain could be heard in the distance playing a violin, adding to this majestic adventure.
During the snorkel we were fortunate to see a bunch of different manta rays with their unique markings and patterns. It wasn't long after nightfall that our time was up and we made our way back to the boat to dry off for the cruise back to the marina.
The journey back was tough I have to admit. That dreaded seasickness feeling started to rear its head, but luckily as we took off the windy breeze and occasional sprays of the ocean's water helped keep it at bay.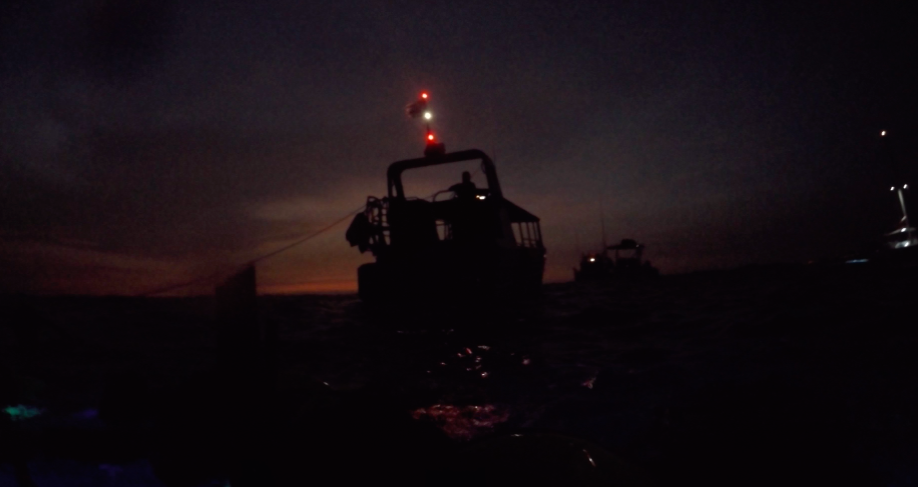 Overall, snorkeling with manta rays in Kona didn't disappoint, and I'm glad I finally got the chance to see them up close. It was an incredible experience that I'll always cherish and should be on your must-do list if exploring the Big Island.
Have you been on a manta ray snorkel? Tell us where you got up and close with these gentle giants.
Wicked
An exhilarating, majestic and once in a lifetime experience. Hang Loose Boat Tours offers a cool island vibe manta ray snorkel tour with a friendly, fun, fit and professional crew.