Of all the cities in Australia, Sydney is definitely a must see and do destination. Whether you have a week or a weekend, it offers numerous activities and sightseeing opportunities to keep you busy all day long. Looking back at one of my favourite visit Sydney getaways to the city, the 48 hours spent there went a little like this…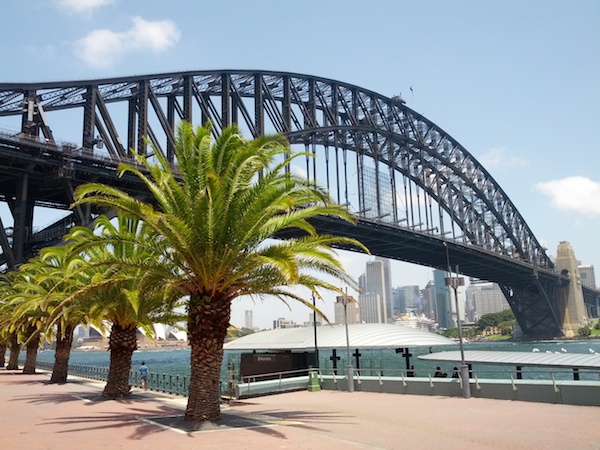 DAY ONE
8pm: Arriving at The Watershed's Sky Bar for Friday night drinks I notice the bar is located waterfront giving panoramic views of Darling Harbour. Unable to resist, we grab one of the high wooden tables outside and enjoy the casual atmosphere as we sample their bar nibbles, cocktails and Australian wines. Here we see some interesting boardwalk traffic, the usual couples on a Friday night date, the family of tourists marvelling the harbour lights but the oddest by far was a group of anamie dressed ladies and a Charlie Chapel look-alike.
Once the cold bites we head inside which boasts a spacious bar, comfy lounge area, chilled music by the resident DJ and a cracking view. At first it's quiet but it isn't long till the place is packed with rowdy suit types double our age who come from an event at the nearby Sydney Convention & Exhibition Centre. After copious amounts of cocktails, wine and beer we peel ourselves off the couches for somewhere different.
Overall I wouldn't recommend The Watershed's Sky Bar if you're looking for somewhere to dance but it's a lovely venue to start the night off with dinner and drinks.
Where to go: The Watershed, 198 Harbourside, Darling Harbour
Open: 10am until late
www.thewatershedhotel.com.au
DAY TWO
7am: Its dark and cosy in the two story apartment at Oaks Goldsbrough, however the noise from guests walking up and down the wooden walkway to and from the lifts is hell, especially if you're in the front bedroom (yes that was me!). The interior of the building is very different from your classic hotel and apartment.
As you exit the lift and walk to your room it's reminiscent of an open-plan office building, with its bridge style walkways and steel railings visible level after level. The two bedroom apartment we stayed in was modern, clean and spacious and could accommodate up to six guests. The apartments are service daily and guests have access to the pool, sauna, spa and gym. It's a good option for budget travellers in a group or a family – just don't be the two suckers in the front room, otherwise I recommend ear plugs.
Where to stay: Oaks Goldsbrough Apartments, 243 Pyrmont Street, Darling Harbour
Tel: 02 8586 2500
Price: Rooms start from $119- $369 per night
www.oaks.com.au
12noon: Walking through the birthplace of modern-day Australia, The Rocks, it's hard to miss the remaining sandstone buildings and cobblestone roads still intact since the late 18th century.
Day or night the place isalive with tourists marvelling the overhead view of the Harbour Bridge and enjoying the weekend markets. With endless stalls on display The Rocks Markets offers everything from speciality foods to fashion and accessories to locally-produced homewares, arts and more. I noticed it's a great place to waste the day strolling aimlessly taking in the adjacent view of the Opera House, habour and it's a short walk to Circular Quay.
Where to go: The Rocks Markets
Open: 10am – 5pm Saturdays, Sundays and Fridays until 4pm
www.therocks.com
2.30pm: What's a trip to Sydney without checking out its shopping mall? So off to Pitt Street it was and the moment I turned the corner there were hundreds of shoppers rushing in and out of the stores. I was in heaven and started to act like a seven-year old high on sherbet as I ran from shop to shop. Wanted Shoes, GAP, SABA, Peter Alexandra, PeepToe, Sheike, Bardot, Forever New, Cue and more had my undying attention for the rest of the afternoon. However one store was on my most wanted list, ZARA. Inside women and a few men filled every space available as they flick violently through the racks and demolish clothing piles. By the way this was just a normal Saturday afternoon, hate to see it when a sale is on.
Simply put – Pitt Street Mall is every girl's dream and every window shopper's nightmare.
Where to go: Westfield Pitt Street Mall, Pitt Street
Open: 7 days a week
www.westfield.com.au
5pm: A chocolate revival was in order and what better place than Lindt Chocolate Café at Cockle Bay Wharf to get my fix? Be prepared to open your wallet here, they don't call it luxury Swiss chocolate for nothing. The cafe reminded me of Max Brennar but fancier, brighter and way more expensive. The menu offered a delicious collection of cakes, ice-cream, macaroons, connoisseurs and other desserts including Lindt flavoured waffles.
Just waiting in line I could feel the sugar surging through my veins and the cavities forming.
Where to go: Lindt Chocolate Café, 104-105 Cockle Bay Wharf, Darling Harbour
Open: 7 days a week from 10am
www.lindt.com
7.15pm: Captivated by The Rocks we head back for dinner at the Belgian Beer Cafe. It's busy inside as patrons congregate at the bar drinking and waiting to be served. After weaving past the wooden staircase, the room opens up to reveal a high ceiling roof with hanging chandeliers and a maze of tables. It's dark and warm inside with the sound of simultaneous conversation, cutlery to plates and the ringing of the bar bell. Service is on point as we sit and are given an oversized menu with beer and wine options. It's a beer drinker's paradise with over 40 types available in draught, artisan, trappiste, timmermans costing anywhere from $5.20 to $78, averaging $10-$15 for a 330ml serving.
With a fantastic array of beer it's onto food and I hear the muscle pots are amazing but I opt for the Heritage Herb & Chicken Schnitzel and I'm not disappointed. It's well presented, tastes good and hits the spot.
You're not starved for choice here as there's the usual steak, fish, chicken and pork dishes as well as Belgian style sausages of course. There's even kangaroo for those curious patrons.
Entrees: $7-$14
Mains: $23-$34
Dessert: $13.50
Where to go: Belgian Beer Cafe, 135 Harrington Street, The Rocks
Open: 7 days a week from midday
www.belgian-beer-cafe.com.au
9.30pm: On the way to nightspot The Argle, The Rocks looked completely different at night. All that's familiar is the cobblestone pathways as I hold onto a friend's arm hoping I don't fall flat on my face. With a short line-up and no cover charge we walk through the courtyard into the lounge bar where the DJ is playing house music. It's a large venue and even though it's relatively early it's busy as all tables and seats are taken. We're lucky to score an unoccupied reserved table upstairs. After a few vodka mixes, I find myself in the open unisex bathroom and warning ladies, the queue is unbelievably long, so pace yourself!
The place definitely attracts the portentous type, all eyeing each other off on who's got the highest heels, sharpest outfits and hottest bodies. Don't get me wrong it's a nice spot, I enjoyed it, but best leave the drink orders to the ladies as the guys will take twice as long to get served. I would describe The Argyle like being in a Dolce & Gabbana commercial, the people are gorgeous and stylish and the décor is uber sheik.
Where to go: The Argyle, 18 Argyle Street, The Rocks
Open: 7 days a week, 11am until late
www.theargylerocks.com
2am: Known to have a bad reputation it didn't calm the nerves when the taxi driver approached saying "You're not going to Kings Cross are you, because I won't go there?" before speeding off after our reply. A bit surprised we hopped into another taxi but this time experienced no issues.
The moment we passed the famous Kings Cross coco-cola sign, it's packed with people hailing cabs, club hopping and grabbing food. The police presence is strong and juiced-up security guards man the nightclub doors. We eventually find ourselves at cocktail bar, Goldfish.
It's dark and intimate inside with the décor boasting sheer curtains, hardwood tables and leather lounges as groove/ funk music plays. It's not as big as The Argyle but the atmosphere is very chilled. The people here are more approachable and interested in having a good time. The dance floor is small and dark as the DJ mixes tracks that make you constantly want to dance. I notice a large island bar dominating the space while the bartenders shake, strain and serve up drinks like its second nature. Perusing their cocktail menu it's loaded with classic and cutting edge choices, like the Mary Pick Ford and Hemingway Daiquiri concoctions that look delicious. I play it safe and choose a classic Mohito and although not too daring it was perfection. It's easy to spend hours here just sampling the cocktails, enjoying the music and being apart of the relaxed social scene, a definite winner in my books.
Where to go: Goldfish, 111 Darlinghurst Rd, Potts Point NSW 2011
Open: Mondays – Saturdays, 6pm until late
www.thegoldfish.com.au
DAY THREE
1pm: After a hop, skip and jump we arrive on Bondi Beach to a not so perfect day, it's overcast, cold and drizzly. Not the best weather to showcase Australia's most famous beach. Only a few people stroll along the scenic walkway mostly tourists and the odd runner. The beach is deserted, except for the committed surfers waiting for their next ride while the famous Bondi Rescue lads retreat to their tower.
I can see the appeal to Bondi – the rocky cliffs perfectly framing the beach, its pristine sand, clear blue water, decent swell and it's full of fit people. Walking around you notice a strong backpacker presence as they fill the cafes, bars and shops. In the distance the Bondi Iceberg Club (known for that swimming pool next to the ocean) is overflowing with people eating, drinking and enjoying the view. While back on the main strip a client can be seen getting a tattoo right in the shopwindow of Bondi Ink.
Bondi is definitely worth checking out, it only takes 35 minutes from the city by public transport with services running frequently. Visitors can catch the Bondi Junction train then connect onto the 380 or 381 buses.
With so much on offer and only 48 hours, what do you like to do during your visit Sydney?